Traceable Cashmere
崇仰人道主义精神
可追溯羊绒
养育山羊不是一份工作,而是一种生活方式。我们亲自会见了每一个牧民家庭,以确保他们善待他们的动物。
在康赛妮收绒的每个牧区,山羊早已成了牧民的家庭成员。我们对每只山羊进行了编码,确保每一批羊绒都可被追溯。
康赛妮保证对所有收集的原料都建立了文件系统,并对产区的原料纤维进行仔细检测。
Admire humanitarian spirit
Traceable cashmere
Raising goats is not just a job, it is a life style. We met with each nomadic family personally to ensure they treat their animals well.
In each pasturing area of Consinee goats have become the family members of herdsmen.
We also code each goat to ensure that each batch of cashmere is traceable
Consinee guarantee that we establish data system for all cashmere raw material collected and test its specification carefully.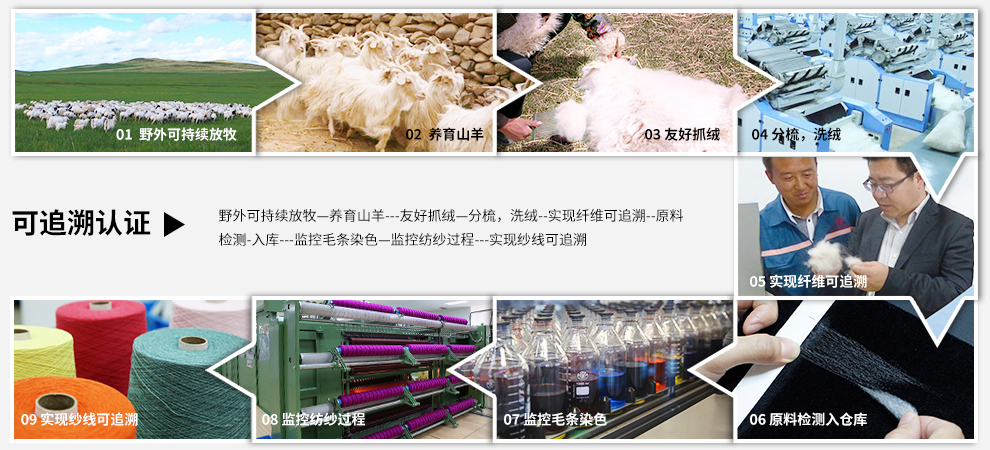 原产地认证:原料收集--收绒建立文件系统--物流跟踪--质检报告---原料入库
Certification of origin
raw material collecting - data system establishment- logistics tracking - making test report- warehouse entering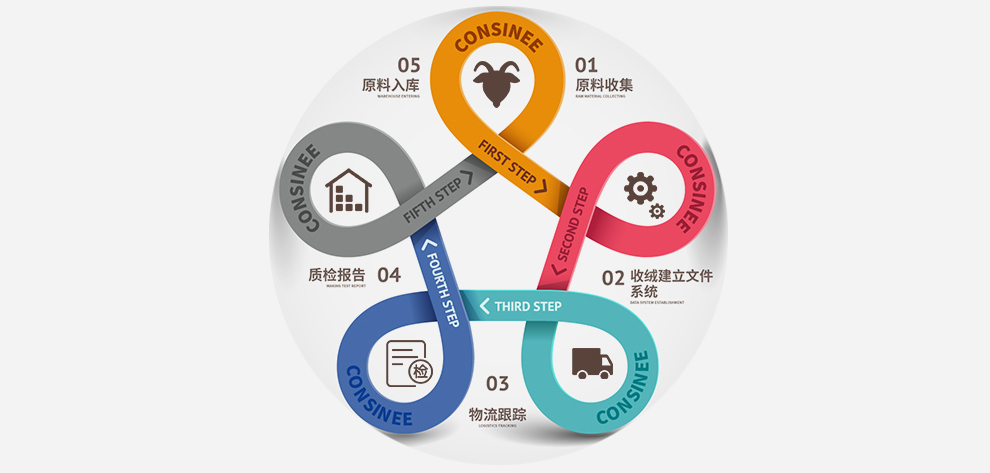 康赛妮选用中国产山羊绒中的优质原料,主要来自内蒙古西部以阿拉善地区为主,青海,西藏等优质绒产区。
康赛妮保证我们的牧区所有牧民都会友好对待山羊,在此也呼吁全民,如发现有虐待动物的现象,
请拨打电话第一时间与我们取得联系,我们将取消其原料供应商资格。
联系热线:18858495002。
It mainly comes from high quality production areas including Alashan area in the western part of Inner Mongolia, Qinghai
and Tibet.
Consinee guarantees that all herdsmen in our pasturing area would treat goats friendly and advocates
that if people find herdsmen abuse goats please contact with us in first time. We will cancel their supplier qualification.
Tel: 18858495002
高动物福利措施
山羊一生中大部分时间都在自由自在地游荡。到了寒冬,牧区建设有防风御寒的羊圈,保护山羊不受风寒侵袭。
牧民非常了解山羊的生活习性,并根据其特点进行照料。比如出牧前、归牧后都要补饲一定饲料,
防止山羊挨饿,冬春两季对每只羊补饲精料,对怀孕的母羊和小山羊给予精心的照顾,使其健康成长。
High animal welfare practices
The cashmere goats graze freely most part of the year. Sheepfolds are built in the pasturing area to protect them from cold and wind.
The herdsmen know well the life habit of cashmere goat and take good care of them according to their characteristics.
For example, certain feed would be supplemented before and after grazing to prevent the goat from starving.
In winter and spring every goat would be supplemented with concentrated feed,
and pregnant goats and young goats are taken good cares to ensure them grow up healthily.
Five freedoms to care for goats
五项举措 关爱山羊
Freedom from starvation by sufficient pasture and feed supplement to maintain health need;
通过提供丰沛的草原和饲料补充让山羊免于饥饿,保持身体健康;
Freedom from threat of bad natural environment by providing well conditioned goat- house.
通过提供条件良好的羊舍让山羊免于恶劣的自然环境的威胁;
Freedom from disease and indisposition by epidemic prevention, health care and timely treatment;
通过防疫,医疗护理和及时的治疗让山羊免于疾病和不适;
Freedom to live as their own behavior habits by supplying sufficient activity places and proper facilities;
通过提供足够的活动场所和合适的设施让山羊有按照自己的活动习惯去生活的自由;
Freedom from mental stress and spirits discomfort by providing friendly care and comfortable living conditions
通过和善的照顾和舒适的生活条件让山羊免于精神压力和不适。

带您了解"我"的生活,"我"的家

I am a baby goat and my name is Niuniu. I live in Inner Mongolia prairie.

我的家:内蒙古大草原- 天时地利

500-4000米。典型的温带或中温带大陆性气候孕育出广阔优质的天然草场,那里是我国的四大牧区,

也是绒山羊—我的家乡。康赛妮的阿拉善羊绒纤维原料主要产自内蒙古牧区。

Traceable cashmere

Take you to learn "my life" and "my home"

My home- Inner Mongolia prairie of fine weather and favorable geographical conditions

The vast prairie in north of China is like a green silk ribbon, stretching across Inner Mongolia, Qinghai and Tibet with altitude from 500 meters to 4,000 meters.

Typical temperate and mid-temperate continental climate breed vast and high quality natural prairies which are the four major pasturing areas and hometown of "me" -cashmere goat.

我的一天:羊妞妞日记
My normal day- diary of Niuniu goat- see attachment
大家好,我是小山羊妞妞。这是我的照片,我可爱吗?
我出生在美丽的大草原内蒙古,一个普通的牧民家,家里有爸爸妈妈哥哥姐姐叔叔阿姨等等,
一个和善的大家庭,好奇我一天都在干什么吗?在哪里玩吗?我来告诉您~
Hello, everyone, I am baby goat Niuniu. This is my photo, am I cute?
I was born in a normal herdsman family in beautiful Inner Mongolia prairie.
I have father, mother, brothers, sisters, uncles and aunts in my happy big family.
Are you curious about what I do every day and where I play? Let me tell you.

清晨的我:随着清晨的阳光撒进我们的窝,妈妈会把我从睡梦中叫醒,等待牧民带我们去大草原。
我最喜欢大草原了,我可以随意的奔跑,追逐,和小伙伴们一起玩,在草原上吃我最爱的青草。
午后的我:吃饱喝足,我就躺在大草原上休息,沐浴阳光。
傍晚的我:趁妈妈不注意,我有时会偷喝nainai,嘻嘻嘻嘻~随着夕阳西下,
我们要回家了,可以回我的羊窝啦,金窝银窝不如我的羊窝。
深夜的我:回想一天,我很喜欢我现在的生活,也很感谢牧羊人对我们的照顾,
可以让我们不风餐露宿,避免被其他凶猛的动物吃掉,我们生病的时候,还为我们请医生治好我们,
希望所有的羊都像我们这样被温柔的对待,享受我们在人间仅有的那些年。
In the Morning
As the sunshine comes in our home in the morning I would be waked up from sleep by mother,
waiting for the herdsmen to take us to the grassland. I love the big prairie best, I can run as I like,
chase and play with my friends, and eat my favorite grass on the grassland.
In the afternoon
I would lie on the prairie to rest and bathe in the sun after full meal.
In the evening
Sometimes I would drink the milk secretly while taking advantage of mother's inattention.
With the sunset I go home with my family to return to my warm sheepfold.
Even the most beautiful golden home is no better than my own home.
At night
Recalling my day at night I really love my life.
I appreciate the warm care from the herdsmen which protect us from cold rain,
high wind and threat from some dangerous animals.
If we get sick he would get doctor to give us medical treatment.
Hope all goats will be gently treated like us and enjoy their lives.
牧民和我的故事----记我的第一次梳绒
每当夏季来临之前,牧民会用特制的羊绒梳从我的内毛梳出来。从而帮助我脱掉了在炎热夏季不再需要的温暖底毛。
在羊绒还没有被人们使用之前,这些被梳落的羊绒最后大多留在我们的身上,形成了一种重量,是我的负担。
The story of herdsman and me- my first combing
When it becomes warm in late spring the herdsman will comb my hair with a special comb,
which helps shed the undercoat no longer needed in hot summer months.
The inner hair will stay in our body and become a burden if not shed.

今天是我的第一次梳绒,我感到很害怕,不清楚人们会不会伤害我。
后来我发现牧民为了避免采绒时碰到我的皮肤,他们会先用稀梳顺着毛抓一遍,再用密梳顺着毛抓一遍,
然后再用密梳逆着毛抓,梳子贴近着我的皮肤,用力平均,他们具有一定的熟练经验,从而尽可能减少碰触我的皮肤。
另外还会根据我的身体部位逐步抓绒,先头部、耳根,逐步移向颈肩、胸、背、腰和股部来抓绒,
这时候我就像是在梳理毛发一样享受着牧民的安抚,对我来说,这是一种享受。
Today I was combed for the first time. I was nervous and not sure if it would hurt me.
Then I found in order to avoid hurting my skin the herdsman combed with
wide-tooth comb firstly and then combed with normal comb in the direction of hair growing,
finally he combed in the opposite direction. He combed evenly and expertly to avoid touching my ski